Presented by Cappuccino Concerts and Albany Entertainment Centre
Indulge in a weekend of exquisite sounds, with some of Australia's finest chamber musicians, performed live in the picturesque Kalyenup Studio!
Now in its thirteenth year, Grove Classics is an initiative of Rob Cowell and Irina Buevska-Cowell, who have created what many consider to be WA's favourite Classical Music Festival.
With the simple formula of bringing great musicians to intimate concert settings, Grove Classics is reminiscent of the early European recital where artist and audience can interact and create a bond throughout the performance.
With its origins at The Grove Library in Peppermint Grove, Grove Classics is hitting the road in May 2023 with a program of outstanding music, promising Albany audiences the charm and charisma the festival is known for.
Rob and Irina comment that "we hold Albany dear to our hearts and we have been here many times, including hosting 'A Concert for Ukraine' in March 2022.  To bring Grove Classics with us in 2023 brings us great joy as we share our music with the whole community of Albany".
Whether you're a seasoned concertgoer or a first-time listener, Grove Classics Albany is an event not to be missed.
---
Packages
Curate your Grove Classics Albany experience AND enjoy considerable discounts with a ticket package!
2 Show Package

3 Show Package

5 Show Package

---
Friday 5 May at 7pm

Four Hands One Piano (WORLD-PREMIERE) | Irina Buevska-Cowell (Piano) & Ivan Buevska (Piano)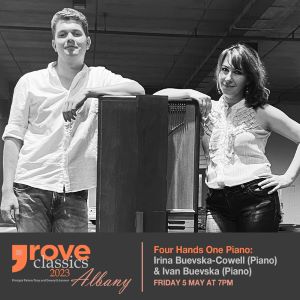 Brother and sister Ivan and Irina Buevska perform together in a world-premiere concert featuring music from their homelands.
Growing up in separate soviet country's and not seeing each other for more than 20 years, the atrocities of war have brought these two Internationally acclaimed pianists together for an emotional and historic reunion.
The two siblings will perform music written by their father Taras Buevska, and grandfather Boris Buevska, both prominent composers in Eastern Europe.

---
Saturday 6 May at 11am

Harmonious Strings | Eliza Bourgault du Courdrey (Harp) & Darryn Santana (Guitar)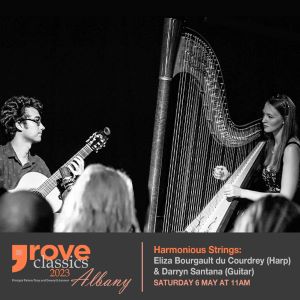 Newly married super star couple Eliza Bourgault Du Courdrey and Darryn Santana are no strangers to the big stage having performed at numerous festivals across Australia.
Having established careers as soloists, Eliza and Darryn have joined forces over the last few years to present what can only be described as the 'understated beauty' of Harp and Guitar.
The combination of harp and guitar is rarely seen, making this duo a unique experience.
---
Saturday 6 May at 5pm

A Tribute to Ukraine | Anna Bogachova (Piano) & Irina Buevska-Cowell (Piano)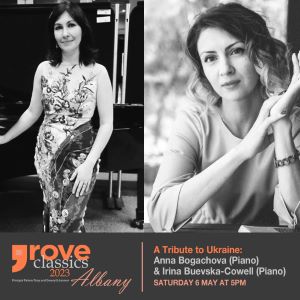 Two Pianists from Ukraine, Anna Bogachova and Irina Buevska-Cowell, graduated from the same University of Arts in Kharkiv just three years apart. It was a chance meeting in Margaret River WA that brought them together.
Anna and Irina fuse their precise techniques and musicianship together as they perform works for Two Pianos, on Albany Entertainment Centre's beautifully maintained Steinways.

---
Sunday 7 May at 1pm
The Soldiers Tale | Bruce Livett (Narration) & Akiko Miyazawa (Violin) & Irina Buevska-Cowell (Piano)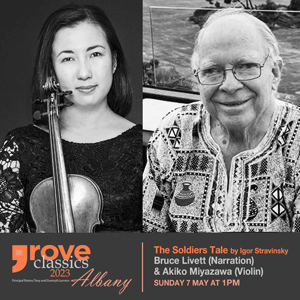 Direct from Melbourne, the passionate and animated Narrator Bruce Livett will breathe life into the Trio version of The Soldier's Tale arranged by Igor Stravinsky for Clarinet, Violin and Piano.
Based on an old folk tale, the story is a dark Faustian fable about a deserting Soldier and the Devil who eventually possesses his soul. The Soldier's violin becomes a symbol of both - his soul and 'wiles of the devil', making it a lesson for all cultures and times.

---
Sunday 7 May at 5pm
Works for Violin & Piano | Akiko Miyazawa (Violin) & Irina Buevska-Cowell (Piano)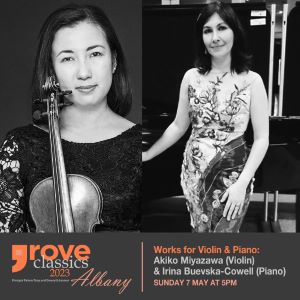 Internationally acclaimed Violinist, Akiko Miyazawa, joins the program to perform a sensational repertoire of works for Violin and Piano with Irina Buevska-Cowell.
Akiko was born in Japan and began studying the violin at age 3. Her remarkable career has seen her perform in numerous Philharmonic Orchestra's and develop into one of Australia's finest Violinists. Akiko currently performs in WASO and her own initiative Cygnus Arioso.