Presented by Albany Entertainment Centre
Kaya Kaya and welcome to Harbourside Concert Series 2023! 
Harbourside Concert Series strides confidently into its 13th year bringing all the diversity and depth of musical genres from around Western Australia. 
From the eclectic and experimental, to indigenous, classical, jazz, folk, and emerging young artists; the series is diverse, richly entertaining and bound to fill your evening with joy. 
This year we are excited to return the performances to the Harbourside Foyer with its sweeping architecture and intimate seating. 
Book early to secure your spot in what is truly one of WA's most unique concert settings! 
SEASON PASSES
Subscribe anytime during the series for generous ticket discounts!

---
SIGN OF FOUR + THE 6 TRIPLE 3 



8 June 2023 at 7:30pm - Albany Entertainment Centre, HS Foyer 

An exhilarating musical journey with two genre-bending ensembles!  
Sign of Four is a contemporary string quartet formed in 2022 by Shenzo Gregorio, Daniel Drieberg, Mardae Selepak, and Jude Iddison. Their innovative and intricate original compositions and arrangements explore the sonic possibilities of combining violins, guitars, mandolin, and octave viola with four-part vocal harmonies. In a seamless flow of musical creativity including Bach, ACDC, Vivaldi and Sting, with tastes of jazz, Celtic and Latin, Sign of Four take their audiences on an exhilarating, and inspiring musical journey.  
The 6 Triple 3 is a genre-crossing trio featuring Rusty Lynch on vocals, Adam Cook on keyboards and Mark Gretton on drums. The trio produce dark, brooding covers of 20th-century classic repertoire with an emphasis on authenticity and deference to the genius of songwriters past. Their sound maximises theatricality, using a large variety of instruments, effects, reharmonization and mashups.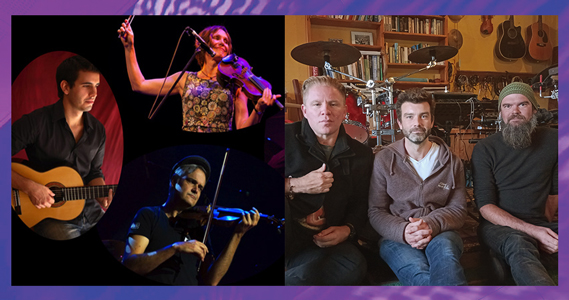 ---
OCEANIQUE + SAM CARMODY





17 June 2023 at 7:30pm - Albany Entertainment Centre, HS Foyer
Heartfelt and ethereal, join us for an evening of songs for the soul with two indie-folk delights. 
Winners of the 2022 Folk Alliance Australia 'Youth Artist of the Year', Oceanique is a twin sister duo from Western Australia now based in Melbourne, VIC. Their songs are filled with ethereal harmonies and peaceful folk energies, with stories of love, loss, and the wonder of time. Sisters Maddy and Jess have been crafting their unique folk music since 2019, releasing numerous singles and touring their home state. Oceanique and their songs have enchanted many with their powerful harmonies, admirable musicianship, and undeniable sibling bond. 
Sam Carmody is a WAM award-winning songwriter and novelist living in Albany, Western Australia. His songs are eloquent, tender, and heartfelt, with a sound reminiscent of indie-folk group The Middle East. The AU Review describe his debut EP as "compelling, dynamic and likely to make you feel as if you are momentarily floating in another dimension." It is a rare treat to see Sam perform live, so don't miss out.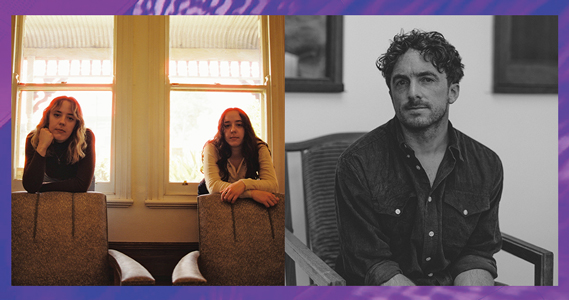 ---
YOUNG SONGWRITERS SHOWCASE 




29 June 2023 7:30pm - Albany Entertainment Centre, HS Foyer 
Five young singer-songwriters from the Great Southern share stories from their hometown and beyond. 
The Harbourside Concert Series has provided musicians with a rare and precious opportunity to be heard in an intimate yet relaxed event. In an exclusive concert for the 2023 program, join five rising talents as they grace the Harbourside stage for the first time. Hosted and curated by Jasper Lemann (The Morsels), audiences will enjoy a range of musical talent and humorous stories about growing up in Albany. Jasper will perform alongside Dan Burke, Isaac Gaffney, Maia Harcourt and Jeremy Staude.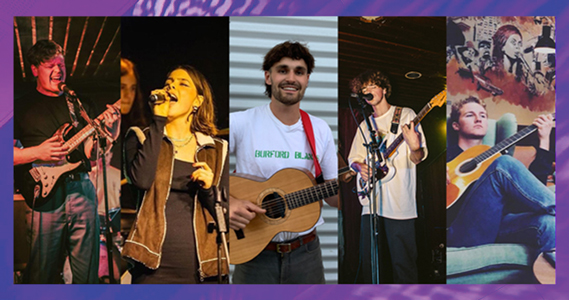 ---
THE BROWNLEY GOSPEL SINGERS + KOMOREBI 




8 July 2023 7:30pm - Albany Entertainment Centre, HS Foyer 
Glorious vocal harmonies feature in this concert that celebrates the beauty of unified voices. 
The Brownley Gospel Singers consists of Dad Trevor, Mum Marcia, and two brothers Linden and Tyrone. This family group have been performing southern and country gospel music together for as long as they can remember. Mum Marcia began singing at an early age, later touring with the late Ernie Bridge and the Little River Band. Winners of the 2017 West Australian Music (WAM) 'Song of the Year' award, The Brownley Gospel Singers write and perform songs in English and Wangkatha with rich and soulful vocal harmonies. 
Matthew Walmsley, Nathan Rogozinski, and Jessica Turner are Komorebi, a folk/ indie band from Albany, WA. Matthew, Nathan and Jessica met during their studies at Great Southern Grammar and connected through their shared passion of music. Performing original songs and covers with a unique twist, Komorebi's sound is characterised by beautiful vocal harmonies, tasteful drums and the warmth of acoustic guitar, banjo and keyboard.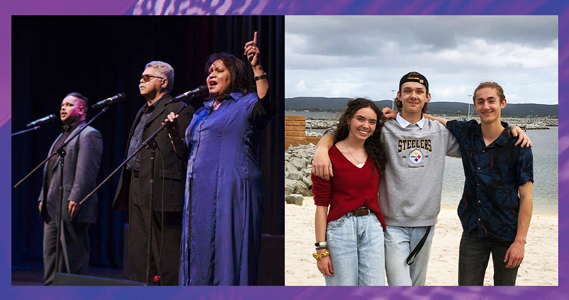 ---
DARLINGTON QUARTET + ALBANY CHAMBER ORCHESTRA 





8 September 2023 7:30pm - Albany Entertainment Centre, Kalyenup Studio
Refined playing paired with bold repertoire - don't miss this classical music extravaganza as two ensembles perform in one epic concert! 
The extraordinary Darlington Quartet are known for their dynamism, energy and superb musicianship. Renowned violinists Semra Lee and Zak Rowntree, violist Sally Boud and cellist Jon Tooby have international reputations for their electrifying performances as a string quartet, as soloists, and for their roles with the West Australian and Darwin Symphony Orchestras.
"Superb solo and ensemble skills… a genuine delight." – Limelight Magazine 
 
Albany Chamber Orchestra is Albany's first & only semi-professional chamber orchestra dedicated to bringing beautiful classical music to the people of Albany and surrounds. This concert marks the third time Albany Chamber Orchestra will collaborate with Darlington String Quartet. These collaborations are a synergistic exercise of enthusiastic music making as two vibrant musical communities come together. 
Please note: Due to the scale of this concert it will be located in the Kalyenup Studio.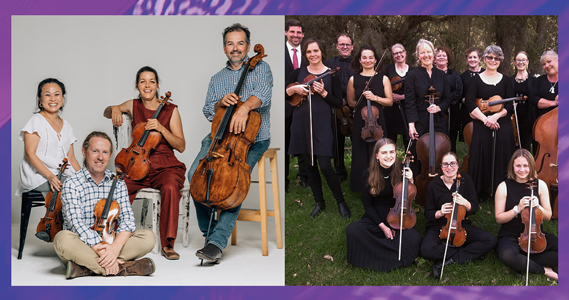 ---
THE LOST FOLLOWERS + SWEET WATER 
21 September 2023 7:30pm - Albany Entertainment Centre, HS Foyer
Mesmerising rhythms and vibrating strings, these two bands will get your feet tapping with traditional tunes and progressive fusions.
The Lost Followers is a Fremantle based Bluegrass band with a raw-edged high-energy live show. The dynamic 5-piece line-up features banjo, mandolin, guitar, double bass, and fiddle to deliver straight up 'fire in the belly' Bluegrass. Their repertoire includes traditional Bluegrass songs and tunes driving rhythms and close 3-part harmonies - The Lost Followers will have you hollering for more!  
Sweet Water is a musical project inspired by a thirst for the flow of connection to land, life & love. Exploring heartland Roots, Blues & Folk music with songs ignited by driving rhythm, droning bass, soothing vocal and flowing guitar & violin. Featuring some of Denmark WA's finest musical talent including Adam Grok, Mark Gretton, Matt Eastwell and Marie Limondin, Sweet Water will move you with their transcendental sounds.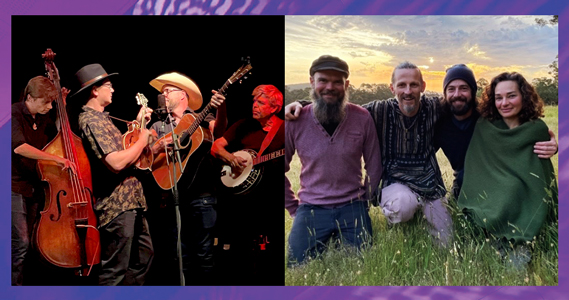 ---
MIRABILIS COLLECTIVE + TILLY KAY 





30 September 2023 7:30pm - Albany Entertainment Centre, HS Foyer 
Enjoy musical flavours from around the world in this joyful celebration of music-making and collaboration. 
Mirabilis Collective is an Australian intergenerational women's ensemble. They perform music that unites diverse repertoire and storytelling, fostering unity and belonging. Their repertoire spans classical, contemporary, and world styles, uniquely blending instruments and voice to create a distinctive sound.  
You may have caught Tilly Kay performing at Strings Attached Festival, Denmark Festival of Voice, Nannup Music Festival or as a touring vocalist for Mama Kin. Tilly's velvet vocals combine with the rhythmic groove of Sam Liddon on double and electric bass, bringing an acoustic soul flavour that is spacious and captivating. Joining them will be jazz guitarist Michael Ellis, to drop licks in all the right places.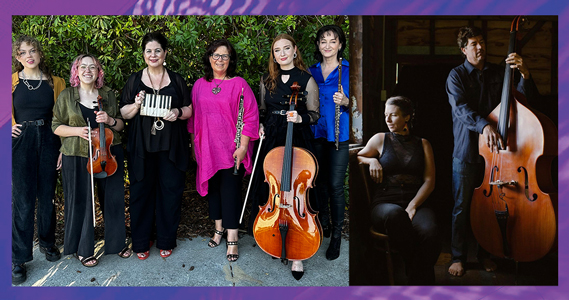 ---
JESSIE GORDON & MARK TURNER + RNB SOUL TRAIN




 12 October 2023 7:30pm - Albany Entertainment Centre, HS Foyer
Close musical bonds and exquisite vocal harmonies feature in the Harbourside Concert Series 2023 finale! 
Accomplished multi-instrumentalist/singer/songwriter Mark Turner and jazz/folk singer and poet Jessie Gordon have been performing together for over 20 years. Together they have toured around Australia and through Europe, won multiple music and cabaret awards and recorded on six albums, including their collaborative releases Best Friends and Live at Kidogo. Jessie and Mark bring a strong jazz background to their songwriting, proving themselves to be masters of improvisation and harmony, as well as incredibly joyful performers. 
Roimata & Jessica formed their duo Rnb Soul Train in April 2021. Since then, the pair have been making waves in the Great Southern, releasing their first single - 'Everlasting Love.' Their music and style of playing is rhythmic and groovy, Roimata's voice melodic and captivating. They play cover songs with their own flare and show their deep love for music through their live performances.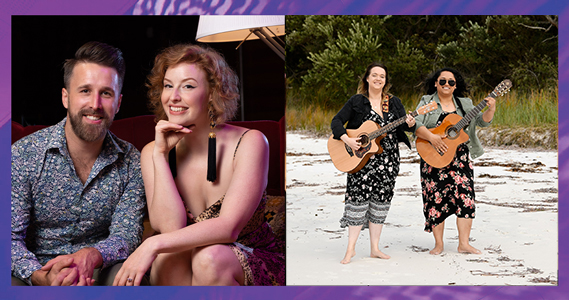 Please note:
Latecomers will not be admitted until a suitable break during the performance.
Mobile telephones and electronic devices are to be turned off during the performance.
Cameras, video cameras and tape recorders will not be permitted without the consent of the promoter.