LOTTERYWEST FILMS TOURING WA
Orana Cinemas Albany - All films 6:30pm
Presented by Perth Festival, Albany Entertainment Centre and Orana Cinemas
---
Triangle of Sadness

Thursday, 16 February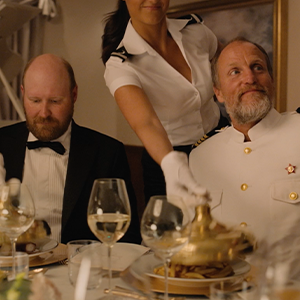 View Trailer

The latest satirical dark comedy from Ruben Östlund (The Square, Force Majeure) is a wickedly funny Palme d'Or winner that turns social hierarchy upside down. Celebrity model couple, Carl (Harris Dickinson) and Yaya (Charlbi Dean), are invited on a luxury cruise for the uber-rich, helmed by an unhinged boat captain (Woody Harrelson). What first appeared Instagrammable ends catastrophically, leaving the survivors stranded on a desert island and fighting for survival. 
Östlund's uncanny knack for capturing the subtly devastating absurdities of human behaviour with a cool, unflinching eye are perfectly on display in this sprawling modern fable on entitlement and power dynamics. 
'Hilarious, scathing and sometimes jaw-dropping.' - Total Film 

Country Sweden
Run time 147 mins
Language English
Rated M
Notes Mature themes, crude humour, coarse language and a sex scene



---

You Can Go Now

Thursday, 23 February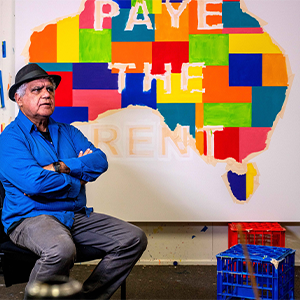 View Trailer

First Nations artist Richard Bell proclaims himself to be an 'activist masquerading as an artist'. His confrontational work and attitudes have stirred the Australian art world while being lauded internationally, taking him from a childhood in a rural Queensland shack to the lofty halls of the Tate Modern. Schooled in the rough and tumble politics of Redfern and the Canberra Tent Embassy, his work challenges the institutions of colonisation in Australia and asserts the rights of First Nations people around the world.   
You Can Go Now traces the course of Richard's remarkable career as an artist and provocateur, while also highlighting his strong ongoing commitment to the politics of Aboriginal emancipation and self-determination.  

Country Australia
Run time 81 mins
Language English
Rated M
Notes Coarse language and crude sexual humour



---
 
Lunana: A Yak in the Classroom

Thursday, 2 March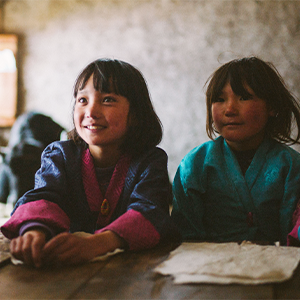 View Trailer 

A young teacher in Bhutan dreams of moving to Australia to be a singer. Instead, he finds himself in the world's most remote school in a village accessible only by horse and foot with no electricity, no textbooks, not even a blackboard. There he learns more from the children than he can ever teach them and is transformed through the amazing spiritual strength of the villagers.  
Nominated for an Oscar in the Best International Feature category, Lunana: A Yak in the Classroom was shot on location in the Himalayas, relying on solar-powered batteries and enlisting local villagers to take on supporting roles. One of the only films made in the extraordinary Kingdom of Bhutan, this surprising and life affirming drama is imbued with low-key humour. This simple story with a big heart reminds us how cinema can connect us to what, ultimately, matters most in life. 
'A crowd-pleaser in stunning, mostly unseen locations.' - Los Angeles Times 

Country Bhutan
Run time 109 mins
Language Dzongkha and English with English subtitles
Rated PG
Notes Occasional mild coarse language



---

The Giants
Thursday, 9 March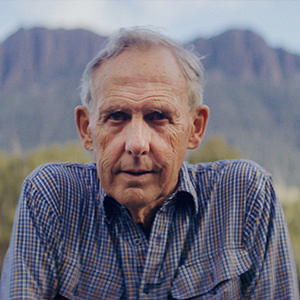 The Giants explores the intertwined fates of trees and humans in this poetic portrait of environmentalist Bob Brown, drawing on his 50 years of inspiring social and political activism. 
From the Franklin campaign for Tasmania's last wild river, to today's battle for the Tarkine rainforest, we hear Bob's story interwoven with the extraordinary life cycle of Australia's giant trees, bought to the screen with stunning cinematography and immersive animated forest landscapes. 
From the team that made Freeman – the most watched documentary of 2020 on Australian TV – The Giants aims to ignite a conversation about the right of the forest to exist, and to inspire us all to save it. 

Country Australia
Run time 105 mins
Language English
Rated TBC



---
Godland

Thursday, 16 March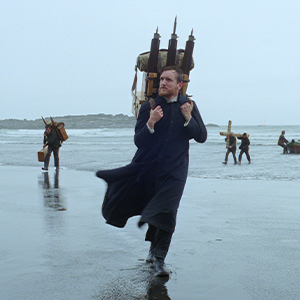 View Trailer

The acclaimed new film from Iceland's Hlynur Pálmason, award-winning director of A White, White Day, is a breathtaking historical epic inspired by true events. In the late 19th century, a young Danish priest travels to a remote part of Iceland to build a church and photograph its people. But the deeper he goes into the unforgiving landscape, the more he strays from his purpose, his mission and morality.  
Pálmason captures the unwelcome priest's perilous journey in haunting detail and artistry, with evocative cinematography from regular collaborator Maria von Hausswolff mirroring his characters' obsession to document a strange new world. Godland draws us into a fascinating character study, which explores the colliding of worlds, ideas and language with enthralling impact.  
'A masterful, magnificently shot story of natural wonder, elemental beauty and human folly.' - Los Angeles Times

Country Iceland
Run time 143 mins
Language Danish and Icelandic with English subtitles
Rated M
Notes Mature themes, scenes of animal slaughter, violence and nudity



---
My Old School

Thursday, 23 March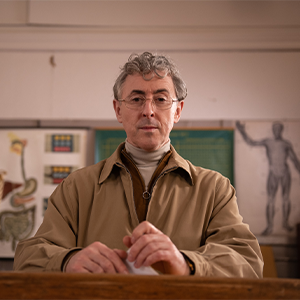 View Trailer

In 1993, 16-year-old Brandon Lee enrolled at Bearsden Academy, a secondary school in a well-to-do suburb of Glasgow, Scotland. What followed over the next two years would become the stuff of legends. It's a stranger-than-fiction tale so bizarre you wouldn't have believed it – even if you were there!  
Filmmaker Jono McLeod returns to his old school for a nostalgic look at the strange but true story of his former classmate, Brandon Lee. Utilising playful animation reminiscent of '90's cartoons like Daria, a pitch-perfect soundtrack, news footage, the memories of students and teachers and the talents of Alan Cumming to bring the tale to life, My Old School is an intriguing documentary with more than one surprise along the way. 
'A labyrinthine network of self-deception, snobbery and megalomania.' - The Times (UK) 

Country UK
Run time 104 mins
Language English
Rated M
Notes Coarse language



---
Perth Festival's Touring WA program is supported by Minderoo Foundation  
Please note:
Mobile telephones and electronic devices are to be turned off during the performance.
Cameras, video cameras and tape recorders will not be permitted without the consent of the promoter.