News Centre
High-tech meets heritage in majestic display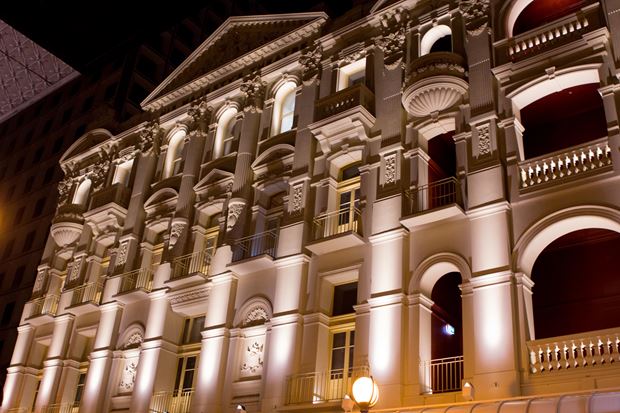 Perth's iconic His Majesty's Theatre is set to host a show of a different kind, with a spectacular new display that promises to help further activate the theatre surrounds.
Overseeing the inaugural lighting of the theatre's famous façade, Culture and the Arts Minister John Day said he expected the nightly illumination would act as a significant drawcard.
"After recently celebrating her 110th birthday, this grand old Perth lady is taking on a new lease of life," he said.
"Given the experience of similar projects in other cities, it is my hope this lighting will attract more people to this beautiful venue."
His Majesty's is Australia's only remaining working Edwardian theatre and is listed as a State Heritage Icon.
"This 1905 theatre needed an imaginative lighting solution that not only met modern standards but respected its delicate heritage façade," Mr Day said.
"The lighting has been overseen by award-winning international lighting designer Martin Klaasen, of Klaasen Lighting Design (KLD), incorporating energy efficient Italian iGuzzini lights."
KLD projects have included Kuala Lumpur's Petronas twin towers and Singapore's famous Raffles Hotel. Perth successes include the National Trust building, St Bartholomew's Chapel at the East Perth cemetery and the Crown Casino.
The $400,000 lighting project was made possible through the support of a Heritage Perth grant and forms part of the 'Light up the City' project, developed to create an imaginative and sustainable façade lighting scheme for significant CBD buildings.
"The beginning of His Majesty's light show coincides with the theatre hosting the opening night of the West Australian Opera's Elixir of Love," Mr Day said. "Thanks to Light up the City, may we love this wonderful theatre for many more years to come." 
Back to news