News Centre
John Bell and Simon Tedeschi to perform rare melodrama at His Majesty's Theatre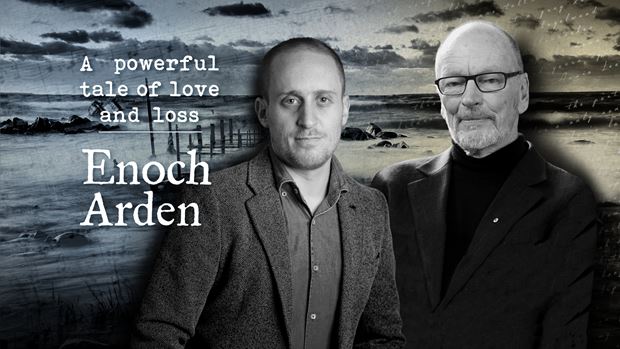 Bell Shakespeare founder John Bell AO OBE and internationally-acclaimed pianist Simon Tedeschi join forces for a rare performance of Enoch Arden: a melodrama composed by Richard Strauss to the words of Alfred, Lord Tennyson's 1864 poem of the same name.
"Audiences can expect to share a moving and dramatic tale of shipwreck, loss and redemption — very satisfying theatre," said Bell, who is looking forward to performing with Tedeschi.
"I've admired Simon for a long time; he's a bit of an entertainer and showman as well as being a great pianist," he says. "It will be fun to share the stage with him."
The historic and artistic value of pairing poetry with classical music is something that both performers are eager to share with Perth audiences, while the themes of the piece still strike a chord more than 150 years after it was written.
"Lieder is perhaps the most elevated form of classical music. Even though John is speaking and not singing, the language, temperament and tradition is the same, especially with Richard Strauss' music featuring," explains Tedeschi.
"The idea of man vs nature, the individual vs society and the very tenuous grip on civilisation that we all face is just as relevant in 2017," he adds.
Enoch Arden tells the heartrending tale of a shipwrecked sailor who returns home after 10 years to find his beloved wife, believing him dead, remarried and with a new child. He makes the decision to sacrifice his own happiness in his love for her, never revealing that he has returned.
This powerful tale of love and loss will be performed for the first time in Perth in the magnificent surrounds of His Majesty's Theatre.
Poem by
Alfred, Lord Tennyson (1864)
Music by
Richard Strauss (1897)
Performed by
John Bell AO OBE and Simon Tedeschi
Pure brilliance... Masterful... This was a powerhouse Performance with an intense corporeality... Insightful and exhilarating
- Sydney Morning Herald
Tedeschi's storytelling is compelling
- Sounds Like Sydney
Back to news