News Centre
State Theatre Centre to host free Friday night concerts 2016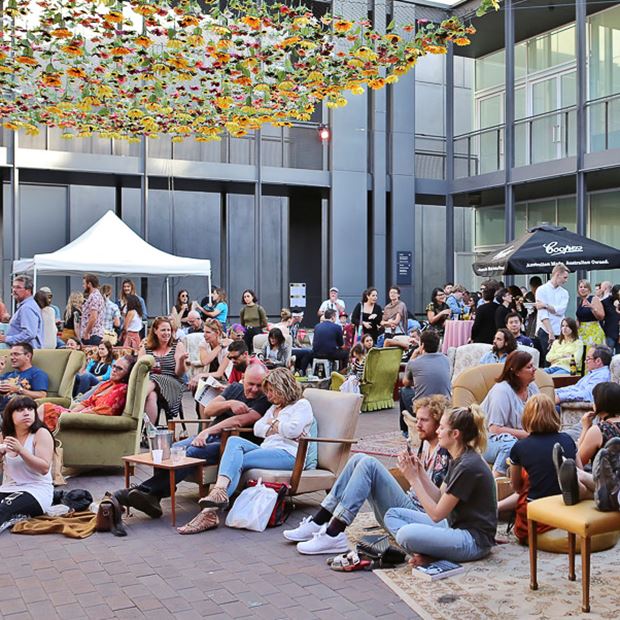 Perth Theatre Trust & RTRFM are proud to announce the full 8-week lineup for the return of free live music series Courtyard Club, taking place every Friday from November 4 to December 23 in the State Theatre Centre Courtyard.
The series opens on Friday November 4 with six hours of Perth's finest electronica, indie rock and avant-pop as a part of WAMfest's Friday showcases. Kicking off at 4.30pm, catch Catlips (DJ), Lana, Our Man in Berlin, Phocal, Puck & Rag n' Bone playing long into the night, all broadcast live-to-air on RTRFM's Drivetime.
In November, the series will see live sets from groove extraordinaire Eleventeen Eston; indie rock stalwarts Sugar Army, who recently released their third album Beast to critical acclaim; and the sublime shoegazing sounds of Dream Rimmy, fresh from the release of their new single Landslide.
Throughout December, Courtyard Club grows evern more diverse, with sets from rockabilly stalwarts Rusty Pinto and Band; Perth indie rock legends The Rosemary Beads, who'll have their first album in 20 years in two; exultant folk-pop wunderkind Lucy Peach; and the irresistible, inimitable funk-soul stylings of Randa and the Soul Kingdom.
Each set will be broadcast live on RTRFM's Drivetime, followed by RTRFM DJs including Will Backler, Diger Rokwell, Henry Maxwell and more, spinning tunes long into the evening.
Courtyard Club is an all ages event with licensed bar and food options, making it the perfect place to kick off the weekend, unwind and bask in the stellar selection of local music our city has to offer.
Enjoy free live music and DJs the stars in the beautiful surrounds of the State Theatre Centre Courtyard, every Friday from November 4 'til December 23.
The Courtyard Club line-up is:
Week 1 (4 November): WAM & Homegrown Presents Catlips (DJ), Lana, Our Man in Berlin, Phocal, Puck & Rag n' Bone
Week 2 (11 November): El Ritmo Presents Eleventeen Eston + DJs Claude Mono & Microgroove
Week 3 (18 November): Out to Lunch Presents Dream Rimmy + DJs Will Backler & Sandy
Week 4 (25 November): Breakfast with Caitlin & Disco Science Presents Dreamy Rimmy + DJs Henry Maxwell & Roland Pain
Week 5 (2 December): Rock, Rattle & Roll Presents Rusty Pinto and Band + DJs David Redding & Razaor Jack
Week 6 (9 December): Siamese Dreams Presents Rosemary Beads + DJs James Hall & Shannon Jenkins
Week 7 (16 December): Drastic on Plastic Presents Lucy Peach + DJs James Hall & Shannon Jenkins
Week 8 (23 December): Soulsides Presents Randa and the Soul Kingdom + DJs Foxman & Big Ear Chad
Media contact: Ellen Thurley on 9265 0986, ellen.thurley@ptt.wa.gov.au
Back to news