News Centre
West End Hit Production '1984' to tour Australia in 2017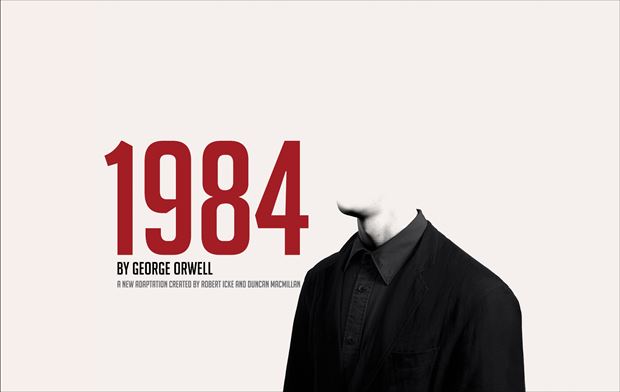 A literary masterpiece meets sheer theatrical ambition
The West End smash hit adaptation of George Orwell's dystopian masterpiece 1984 will tour Australia in 2017. The Olivier Award nominated production has been seen by over 400,000 people worldwide and will play major seasons in Adelaide, Melbourne, Brisbane, Sydney, Canberra and Perth over a four month period.
The critically acclaimed production, featuring a much lauded adaptation and direction by Robert Icke and Duncan Macmillan, and produced by British theatre innovators Headlong, the Almeida Theatre and Nottingham Playhouse, has been a theatrical phenomenon, with three hugely successful seasons in the West End, extensive UK and US touring and international festival appearances, including a totally sold-out season at the 2015 Melbourne Festival.
The Australian tour of 1984 will feature a brand new Australian cast under the direction of Australian Associate Director Corey McMahon who worked with Robert Icke on the most recent West End season. The production is spearheaded by Ambassador Theatre Group, GWB Entertainment and State Theatre Company South Australia and involves partnerships with the Adelaide Festival Centre, Queensland Performing Arts Centre, Sydney Theatre Company, Canberra Theatre Centre and Perth Theatre Trust.
With a superbly conceived adaptation of Orwell's classic novel, brilliant use of multi-media and striking designs, this depiction of a world in which Big Brother is always watching, repression routine and love forbidden, is breathtaking and incendiary.
Robert Icke and Duncan Macmillan said 'After the warm welcome our production received at the Melbourne Festival in 2015, we're delighted that it is returning to Australia. Even more now than last time we visited, Orwell's dystopian vision of a surveilled and totalitarian world seems horribly relevant.'
Set in a world where an invasive government keeps a malevolently watchful eye on its citizens, this radical and richly praised staging explores surveillance, identity and why Orwell's vision of the future is as relevant now as ever. It is a timely reminder of the dangers posed by the digital age and society's subconscious cooperation in the invasion of our own privacy.
One of theatre's most powerful events of recent times, the stage adaptation of 1984, originally produced in the West End by Sonia Friedman Productions and Eleanor Lloyd Productions, received a nomination for Best New Play at the Olivier Awards, won a UK Theatre Award for Best Direction, and has played to huge audiences over the last three years.
Published in 1949, 1984 is one of the most influential novels of all time, with its depiction of perpetual war, pervasive government tracking, mind control and the corruption of language and history. Its ideas have become our ideas, and Orwell's fiction is often said to be our reality. Many of the terms coined by Orwell in the book have entered the English language, with the entity of Big Brother becoming one of the most iconic literary inventions and potent symbols of the 20th century. Even the recent US Presidential campaign evoked the legacy of the book when US Senator Bernie Sanders warned of an "Orwellian future" when responding to the rise of Wikileaks and the release of classified NSA files by Edward Snowden.
For more information on the tour or to book tickets visit www.1984play.com.au
★★★★★
Limelight Magazine, Australia
'Chilling, ingenious. 100 minutes. I urge you to see this stunning show'
★★★★
The Times (UK)

★★★★★
The Guardian (UK)

★★★★★
The Observer (UK)

'A work of extraordinary quality and intensity'
★★★★★
The Independent (UK)
★★★★★
TimeOut (UK)
★★★★★
The Daily Telegraph (UK)
Back to news