News Centre
World-first virtual orchestra free to experience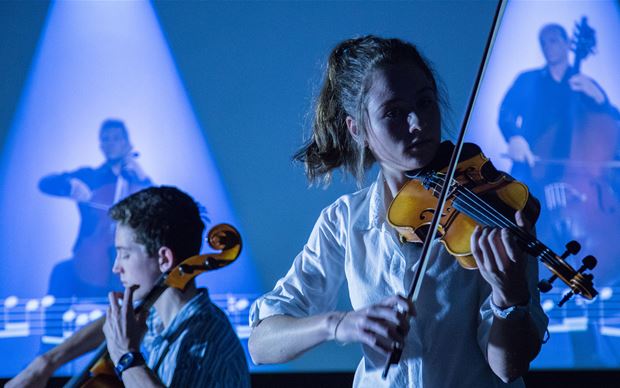 Local audiences will be able to experience music in a way never before possible when ACO Virtual is installed at the Albany Entertainment Centre (AEC) later this month.
Imagine standing on stage surrounded by the Australian Chamber Orchestra's (ACO) virtuoso musicians, feeling the energy of Artistic Director Richard Tognetti playing his priceless Guarneri del Gesù violin, or getting up close to principal violinist Satu Vänskä's Stradivarius violin.
ACO Virtual, the Australian Chamber Orchestra's world-first digital installation, promises this and more:
See how fast the musician's fingers move;
Hear the sounds of each instrument whirl around you;
Experience what the cellos sound like on their own, or the violas, or even the double bass;
Bring your instrument and play along with the installation;
Take the helm of the ACO and stand in for Richard Tognetti himself;
Pay nothing: Entry to ACO Virtual is free of charge.
Using state-of-the-art video technology, ACO Virtual features projections of 13 of the ACO's acclaimed musicians. Audiences are surrounded with the sound of each musician coming from the direction of their individual projections.
A touch-screen allows users to listen to one musician, a section of instruments or their desired selection of players. The musical score can be turned on to stream along the bottom of the screen, meaning anyone who plays an instrument can play along with the ACO. A smartphone app also provides information about the music, musicians and instruments.
Audiences essentially 'step inside' a concert and are immersed in a cinematic experience, surrounded by the musicians and manipulating what they hear and see, just like in a video game.
ACO Virtual runs for 30 minutes on a loop and features carefully selected music from Bach, Grieg, Smalley and Piazzolla, designed to maximize the opportunity for audience participation.
Since June 2013 ACO Virtual has been installed in 23 venues in 16 cities across five Australian states, as well as in Hong Kong.
ACO Virtual is presented by Perth Theatre Trust in association with the City of Albany and Albany Advertiser.
What: ACO Virtual
Where: Albany Entertainment Centre – Kalyenup Studio
When: Saturday 23 January – Sunday 7 February 2016
Open: Monday to Friday 10am – 4.30pm
Saturday and Sunday 10am – 3pm
Cost: Free entry
Bookings: School groups wishing to attend are encouraged to book for exclusive education sessions.
Phone AEC Box Office 9844 5005.
Further information:
Pip Moir
Marketing Officer
Albany Entertainment Centre
(08) 9844 5015 | pip.moir@ptt.wa.gov.au
Watch the video below to get the full ACO Virtual experience.
Back to news