Crew & King Café | Restaurant | Bar
---
825 Hay Street, Perth | 9265 0937
OPEN Mon-Fri 7.30am - 2pm (Lunch from 11am)
CLOSED Public Holidays
BOOKINGS
Book via
The Fork
or call (08) 9265 0937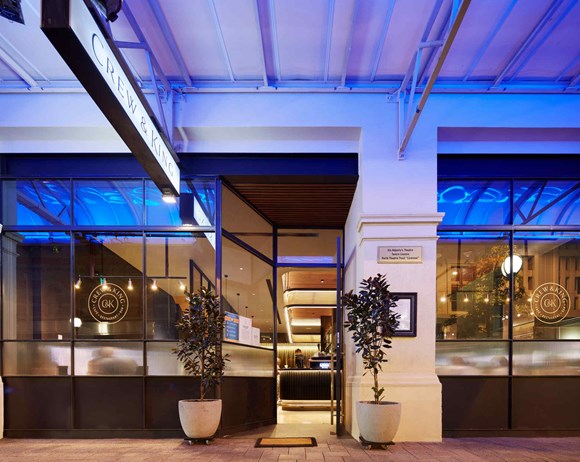 About
Crew & King Café | Restaurant | Bar is now open at the iconic His Majesty's Theatre and serving the best produce Western Australia has to offer.
With a focus on excellent service, everything we do is a reflection of the proud heritage of our grand theatre, and the passion for the performing arts which has been at the heart of the City for 116 years.
The Crew & King menu is designed to give you a variety of options from light snacks on the go and main meals that are the centrepiece of a memorable visit to our venue.
We have suppliers from Manjimup to Carnarvon and our offering includes: venison from Margaret River; beef, lamb and pork from Albany and the Stirling Ranges; seafood from our coastal fisheries; cheeses from our Canning Vale-based wholesaler and fresh bread from a Perth-based artisan bakery.
A thoughtfully curated wine and drinks list also pays homage to our local industries; and our friendly, welcoming team will always offer expert advice to assist you with your choices.
We look forward to sharing the best of Western Australia with you!
The perfect addition to a night at the theatre
Crew & King will be open for all performances in His Majesty's Theatre's main auditorium, so you can enjoy a delicious meal before your performance. Bookings are advised and you can relax and enjoy the atmosphere at Crew & King right up until your performance starts, as we are taking just 1 booking per table prior to performances. Book via The Fork or call (08) 9265 0937.
Crew & King is also open after main auditorium performances, with counter service for drinks and cake. No need to book, simply come on in and let the post show conversation flow!

---
Warning
Under the Liquor Control Act 1988, it is an offence:
• to sell or supply liquor to a person under the age of 18 years on licensed or regulated premises; or
• for a person under the age of 18 years to purchase, or attempt to purchase, liquor on licensed or regulated premises.
License Number: 6020001651, License Class: Tavern License, Licensee: Arts & Culture Trust