Parking and Transport
---
State Theatre Centre of WA is located 174 - 176 William Street, Perth.
Drop off bays
There are two, 5 minute drop off points located on Roe Street and on William Street. 
Drop off point 1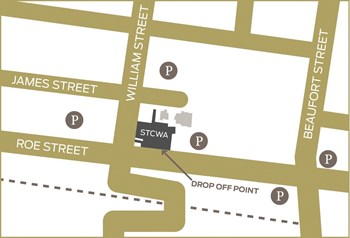 Drop off point 2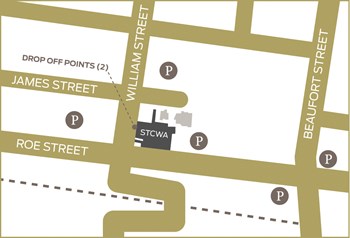 Parking
Several secure car park facilities providing accessible parking bays are located within a short walking distance from State Theatre Centre of WA, these include: 
City of Perth State Library Car Park: This is a 24-hour undercover car park with access from Francis Street. Seven accessible bays, two at basement level and five on the ground floor. Pre-paid parking is available after 6pm.
City of Perth Cultural Centre Car Park: Access from Roe Street. Four accessible bays with two on each level.
Car park operators contact details
City of Perth Parking
Phone: +61 8 1300 889 613
Web: www.cityofperthparking.com.au
Wilson Parking
Phone: +61 8 9415 2800
Web: www.wilsonparking.com.au
Transperth
Phone: +61 8 136 213
Web: www.transperth.wa.gov.au
---
Transport
The State Theatre Centre of WA is just a stone's throw away from Perth Railway Station and Roe St Bus Station, making public transport an option for travelling to and from the theatre.
Rail
Perth Train Station can be accessed from the Eastern Concourse, Wellington Street, and the Roe Street entrance to Platform 9. People with accessibility difficulties are encouraged to use the Eastern Concourse that connects the Perth Cultural Centre with Forrest Chase, which is the current option as the William Street footbridge is not DDA compliant.
For more information visit the Perth City Link website.
Bus
Transperth's BLUE CAT buses travels from the Barrack St Jetty to Northbridge. The closest pick-up and drop-off points to the State Theatre Centre are Beaufort Street (Stop no. 7) and William Street (Stop no. 15). The Blue CAT operates every 7 minutes from 6.50am - 6.20pm (Mon-Thurs), every 15 minutes from 6.20am - 1.00am (Fri), every 15 minutes from 8.30am - 1.00am (Saturday) and every 15 minutes from 10.00am - 6.15pm (Sunday).
It is recommended that patrons requiring special assistance at train and bus stations to contact Transperth on 1800 800 022 for further details. This is a 24 hour service. For more information on routes, timetables and services contact Transperth's InfoLine on 13 62 13 or visit the Transperth website.
Taxi
Taxi ranks are situated at: 
James Street (outside Food-hall, near corner of Lake Street)
Milligan Street (alongside Rosie O'Grady's towards Roe Street. Fri & Sat nights, 11pm to 5am only).
William Street Supervised Rank (located between Francis & James St. Fri & Sat nights, 11pm to 4am only)
Perth City Rail Station (Wellington Street)
William Street directly outside the main entrance of the building