News Centre
A literary masterpiece meets sheer theatrical ambition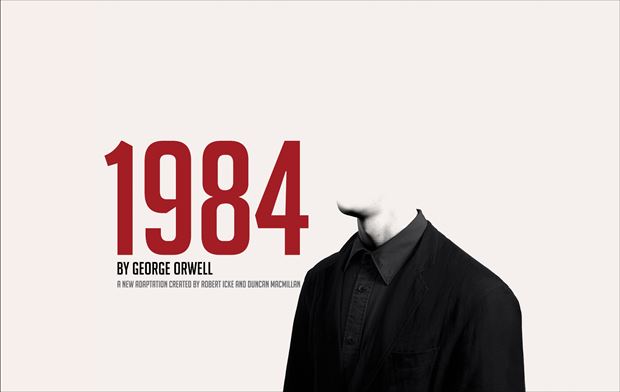 Ambassador Theatre Group, GWB Entertainment & STCSA in association with Perth Theatre Trust present the Headlong, Nottingham Playhouse & Almeida Theatre production of 1984. By George Orwell. A new adaptation created by Robert Icke and Duncan Macmillan.
A literary masterpiece meets sheer theatrical ambition.
HIS MAJESTYS THEATRE | 4 - 13 AUGUST, 2017
April, 1984.13:00. Comrade 6079, Winston Smith, thinks a thought, starts a diary and falls in love. But Big Brother is always watching.
Set in a world where an invasive government keeps a malevolently watchful eye on its citizens, this radical and much-lauded staging explores surveillance, identity and why Orwell's vision of the future is as relevant now as ever.
Produced by the UK theatrical innovators Headlong along with Nottingham Playhouse and the Almeida Theatre, George Orwell's dystopian classic came roaring onto the stage in 2013 and since then it has become an international phenomenon.  Seen by over a quarter of a million people worldwide, it has enjoyed three hugely successful West End seasons as well as an international tour including a sold-out season at the Melbourne Festival.  Now with a brand new Australian cast, we bring adapter-directors Robert Icke and Duncan Macmillan's thrilling vision to continue its 2017 Australian tour in Perth.
"Chilling, ingenious.  100 minutes.  I urge you to see this stunning show." 
- The Times (UK)
"North Korea and Donald Trump.  Wikileaks and Edward Snowdon ….. dark and disturbing.  1984 speaks to many 21st century anxieties."
- The Melbourne Herald Sun
"George Orwell's dystopian classic returns with shattering clarity."
- The Melbourne Age
Don't miss the chance to see one of the 20th century's greatest novels be given new life by some of the Australian theatre's rising stars.
To understand 2017…you have to see 1984.
Back to news