News Centre
The Gold Digger returns to State Theatre Centre in 2016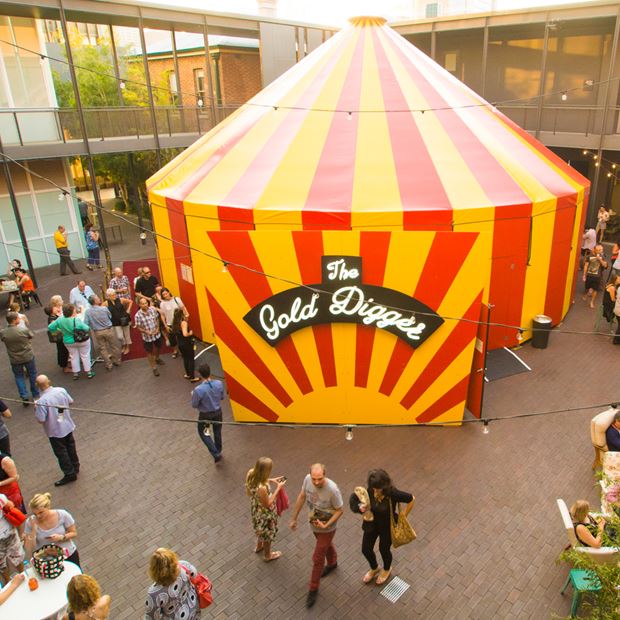 The Comedy Central program in The Gold Digger is back for FRINGE WORLD Festival 2016 with more than 90 performances from top national and international comedians.
Giving a nod to WA's gold rush background, The Gold Digger is a custom-designed comedy venue in the State Theatre Centre of WA's courtyard and is presented through a long-term collaboration between the Perth Theatre Trust and FRINGE WORLD.
The Fringe Comedy Central program at The Gold Digger features some stellar comedy talent including Tom Ballard with The World Keeps Happening, his latest stand-up show about man's inhumanity to man, and Josh Earl returns with a new show Over/Under, a hilarious hour of stand-up and songs about being overtired and underwhelmed overseas.
The Gold Digger also welcomes back some familiar faces — Dave Callan presents a sequel to last year's sell-out smash hit dance comedy extravaganza, A Little Less Conversation 2, it's the ultimate marathon with a full range of dance styles.
Perth favourite Marcel Lucont brings deadpan wit, louche musings and Gallic superiority to Marcel Lucont's Whine List and Sammy J brings his keyboard back to The Gold Digger with The Sammy J Songbook for four shows only.
FRINGE WORLD Festival Director Amber Hasler said The Gold Digger had become a favourite destination for Fringe fans.
"The program has something for everyone, with guaranteed laughs every night of the Festival," Ms Hasler said.
Perth Theatre Trust Acting General Manager Rudi Gracias said he looked forward to the return of The Gold Digger after a very successful 2015 comedy program.
All tickets for FRINGE WORLD shows are on sale now and the full program of Festival events is at fringeworld.com.au
More than 150 performance venues and performance spaces will open their doors to audiences at the 2016 Festival, offering something for everyone with over 700 entertainment options from January 22 to February 21.
Media contact – Tracy Peacock tracy.peacock@ptt.wa.gov.au  6552 7426
Back to news